25th ASM programme book Download Link:
PDF – Best for Printing – Larger Size (75MB) – Last updated: 22nd Oct, 2020
PDF – Best for Viewing – Smaller Size (17MB) – Last updated: 22nd Oct, 2020
---
Dear all HKUA members,
We are pleased to announce this Call for Abstracts for the Hong Kong Urological Association the 25th Annual Scientific Meeting to be held on 25 October 2020 (Sun).
Please find the documents below as attached for your reference,
Abstract Submission Form with Submission Guidelines (Download Here)
Abstract Powerpoint Template (Download Here)
HKUA Membership Application Form (Download Here)
For Abstract submission, you may submit either through google form at https://forms.gle/ciWv7AHwo8wwGZPUA or email reply to asm@hkua.org with submission form and abstract attached.
The deadline for all submissions is 23:59 28th August 2020.
If you have any questions regarding your submission, please feel free to contact asm@hkua.org . We look forward to receiving your abstract and hope that you will be able to participate. Thank you.
Best Regards
HKUA
---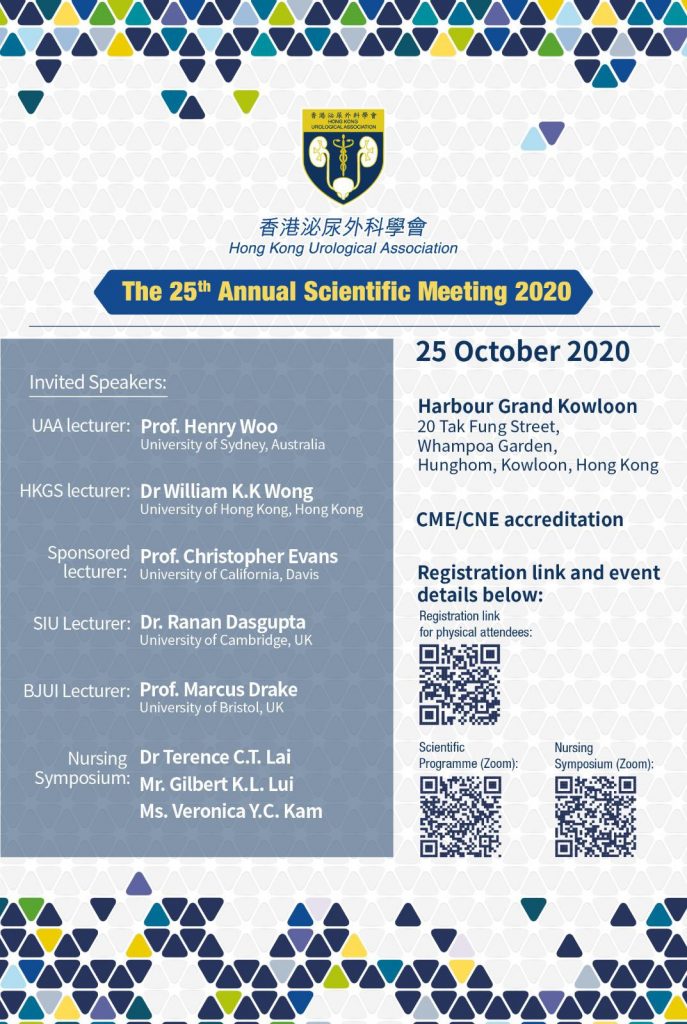 Dear all HKUA members,
We are pleased to inform you that the registration of HKUA – The 25th Annual Scientific Meeting is NOW OPENED!
Interested parties please fill in the online registration form at: https://docs.google.com/forms/d/e/1FAIpQLSe1WjjGRf5ZmeRdKOkdS8RySUuyoQGmK4eMbKy-4w-IgMLXRQ/viewform
For more details of the meeting, please do not hesitate to contact the official event coordinator: Irene Lo by Tel at 2123 5967 or email irene.lo@pmahk.com
We look forward to meeting you soon at the conference!
Yours Faithfully,
Hong Kong Urological Association
---
For enquiries, please do not hesitate to contact the official event coordinator:
PMA Marketing Consultancy Ltd
Ms. Sandie Ng sandie.ng@pmahk.com / Ms. Irene Lo irene.lo@pmahk.com /
Tel +852 2123 5967